The Eastern New York ASSP Chapter is happy to post your job on our website. All you need to do is send the job posting information either as text in an e-mail body or as a Microsoft Word document to etiene.alembong@gmail.com or joel.paradee@gmail.com. There is no cost associated with posting on our website. Old job postings that are more than 90 days old will be removed from the website. If you haven't found a suitable candidate in that time, just send a new listing and it will be reposted.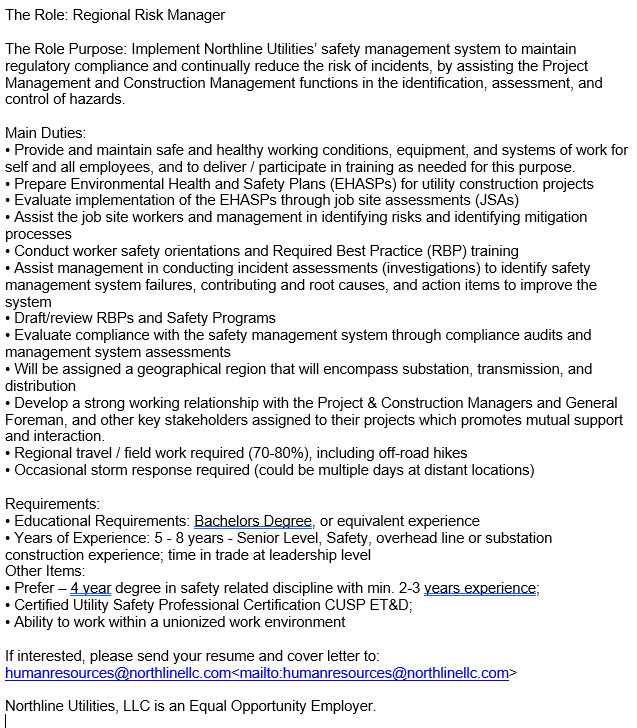 If interested, please send your resume and cover letter to: humanresources@northlinellc.com<mailto:humanresources@northlinellc.com
DESCRIPTION
BMC seeks an EHS&S Manager to coordinate and oversee Environmental, Health, Safety & Security (EHS&S) programs at our manufacturing plant located in Johnstown, NY.
POSITION SUMMARY
The EHS&S Manager will provide program management, technical oversight, and expertise to assist site leadership with the development, implementation and oversight of EHS and security programs. The position is responsible to manage, implement and administer standardized EHS&S processes to ensure compliance with federal, state and local regulations as well as corporate policies and practices. This position will specifically focus on improving and safeguarding the health and safety of all employees and ensuring compliance.
RESPONSIBILITIES
The EHS&S Manager will report to the Director, Corporate EHSS Operations with the following responsibilities not limited to:
Support regulatory compliance, interpretation of regulatory applicability, interaction with local, state, and federal regulators including negotiation/discussion of remedial activities as local subject matter.
Oversight and management of environmental programs (Hazardous Waste, SARA 311/312/313, Storm Water Mgmt and Air Permitting)
Lead EHS&S programs, processes, and projects to improve EHS key performance metrics.
Responsible for certain elements of the site's Process Safety Management (PSM) OSHA 1910.119 program including EPAs RMP requirements and BM&Co. standards related to Process Safety.
Assist in the PSM management of change (MOC) process as well as changes to new and existing equipment at the concept stage to ensure that EHS design specifications and regulations are included.
Oversee/implement local EHS training programs and training assessments to ensure required training is conducted. Conduct applicable training courses on-site as required.
Assist in the development and support of site safety committees and advise on safety and health issues.
Work with leadership on investigation and root cause analysis (RCA) of loss events such as injuries, spills and near miss events and assist with development and tracking of corrective action plans.
Coordinate/participate in internal / external EHSS audits or inspections of EHSS & PSM processes and perform necessary follow up to ensure compliance
Manage routine EHS&S reports/documentation including data acquisition, record keeping, monitoring, review, and approval.
Interact with local, state, and federal regulators as the subject matter expert. Coordinates communication of regulatory inspection activity with plant/corporate leadership.
Oversee the site's compliance task calendar in coordination with corporate leadership.

QUALIFICATIONS:
Bachelor's degree in Environmental, Safety, Engineering, Science or related field
Minimum of 7-10 years of safety, environmental, engineering or related experience in a manufacturing, distribution and or R&D center environment
Strong process safety management skills with minimum 5 years' experience working in PSM regulated facility.
Demonstrates ethics and integrity when dealings with peers, management, customers, and regulators
Successful experience leading projects and teams or committees
Strong understanding of federal, state and local regulations and requirements
Highly collaborative spirit with strong team and interpersonal skills and ability to work effectively with all levels of the organization.
Strong leadership, analytical and problem solving skills
Effective written and verbal communication skills
Flexibility to work outside of normal or routine work hours – if needed or as required
Ability to travel 1-3 times per year
Proficient use of Microsoft Office Suite and/or other software
Safety related professional certifications e.g. CSP, CIH or PE preferred
Apply at Benjamin Moore Careers: Job # 2515
https://recruiting.adp.com/srccar/public/RTI.home?d=ExternalCareerSite&_icx=v026AeedYlN3yUtSC9uHBECoj6wdmzOr0gsSLljEjmdLN92uD0BH%2Fb1VOnWx05WcJZV&c=1146411&_dissimuloSSO=X-NC85QHxW4:9RcOFYucXww30L-0zC2gedIJpew#/
Location: Haleon (GSK) – East Durham, NY
Department: Engineering
Effective Date: 3-Feb-21
Key Responsibilities:
Conduct, create and update Physical Guarding Assessment (PGA's) and Machine Safety Risk Assessments (MSRA's) as required per GSK GES 110 Machinery Safety 5.16 Electrical and machinery safety.
Keep all the site documents related to Process Safety, as HAZID, HAZOP, What-Ifs, BoS, MEIRA and HAC studies updated.
Facilitate the use of PHIRA techniques whenever necessary.
Coordinate the implementation of technical solutions related to machinery safety and process safety – performing and reviewing engineering design of safety solutions.
Project management of safety remediation work as required.
Review engineering projects focus on Machinery Safety and Process Safety requirements to ensure the project will meet GSK's corporate requirements upon completion.
Support the Compliance Manager with Machinery Safety document updates – PGA's, MSRA's, and LOTO procedures (per 1910.147 and GSK requirements).
Support accidents or near misses related to Machinery Safety as demanded.
Work on the implementation of the Site EHS Maturity Program related to Machinery Safety and Process Safety.
Developing Operating and Maintenance Procedures related to Process Safety, Machinery Safety and LOTO.
Facilitating PHAs and managing action items
Gap analysis for relevant EHS and/or Engineering standards
Conduct, review and approve change control with Process Safety, Machinery Safety and LOTO impacts.
Scope or Accountability: No direct reports or indirect reports
Knowledge/ Education / Experience Required
A. Educational Background
List any academic or practical education that must be obtained to be qualified to perform this role.
1. Minimum Level of Education
Engineering Degree
Area of Specialisation
Chemical or Mechanical Engineering or related discipline, EHS
Why is this Level of Education Required?
Background on core engineering, EHS topics
2. Preferred Level of Education
Mechanical Engineer Degree
Area of Specialisation
Chemical or Mechanical Engineering or related discipline, EHS
Why is this Level of Education Preferred?
Background on core engineering, EHS topics
B. Job-Related Experience
Describe what experience this position will require the job holder to have obtained in past roles within or outside of GSK that would demonstrate a level of proficiency in the stated role.
Minimum Level of Job-Related Experience required
3-5 years related experience in a production environment.
Why is this Level of Experience Required?
Responsibilities and actions affect the safety, quality, and production of the facility.
C. Other Job-Related Skills/Background
List any licenses, certificates, registrations, or any relevant job skill or abilities not covered in Educational Background or Job-Related Experience sections above that are required for the job.
Quality and detail orientedGood judgment and problem-solving skillsAbility to read, write, and communicate in EnglishAbility to operate in a team-based environmentFlexibility to work extended hours as needed to achieve resultsAbility to interact with all levels of the organization and influence decision makingMust take proactive measures to achieve goalsAbility to successfully manage improvement projects to completionSkilled in multi-tasking and prioritizing actions with varying timelines
To Apply:
Jason Kippen
Recruiter
GSK Consumer Healthcare
Complementary Worker on assignment at GSK
Remote Worker, Albany, NY
Mobile 518-269-1366