The Eastern New York ASSP Chapter is happy to post your job on our website. All you need to do is send the job posting information either as text in an e-mail body or as a Microsoft Word document to etiene.alembong@gmail.com or joel.paradee@gmail.com. There is no cost associated with posting on our website. Old job postings that are more than 90 days old will be removed from the website. If you haven't found a suitable candidate in that time, just send a new listing and it will be reposted.
Location: STS Steel, Schenectady, NY
We are currently seeking a highly motivated individual to join our team as a full time Safety Manager and Employee Trainer. The ideal candidate will assist the Plant Manager with daily operations to ensure a safe, efficient team environment, manage multiple priorities with emphasis on employee training and safety in a very complex fabrication facility with approximately 50 employees. This position involves working in the manufacturing facility and in the office.
STS Steel is an employee-owned, leading steel fabricator of bridges, buildings, and special structures with AISC Quality Management System certification for Buildings, Advanced Bridges, Hydraulic Structures with Fracture Critical and Sophisticated Paint Endorsements. If you are self-motivated, passionate about your work and want to grow in an environment of trust, we have an opportunity for you.
Responsibilities:
Assist the Plant Manager as needed in all functions including but not limited to:
Coordinate periodic employee safety trainings, meetings, and tests (i.e. Hearing tests, drug tests, etc.)
Update and document all the above into Safety Logs.
Assist interviews of new shop applicants for hiring.
Observe/walk-through shop, paint shop and office for safety during production and manage unsafe behavior.
Control and distribute documents and drawings to production personnel in the shop.
Ensure correct signage is posted and visible for all employees, including Government requirements for pandemics (Covid, etc.) that may occur.
Write accident and incident reports.
Set up building inspections as needed (sprinkler, fire alarm, walkways etc.).
Set up and coordinate a monthly Safety Committee meeting.
Qualifications:
OSHA 30 and OSHA 521 certifications required. (OSHA 525 is a plus.)
Ability to understand OSHA safety regulations and train others.
Know or learn current drug and alcohol laws for New York State.
Ability to work safely and independently, be self-motivated and detail oriented.
Ability to work in a fast-paced environment with changing priorities.
Ability to read and understand technical instruction manuals. For example, could read and understand the safety manual for a new power tool they purchased.
Experience using machinery or hand tools.
Experience in steel fabrication, welding, and fitting a plus.
Medium Physical Requirements:
Use all limbs and make a variety of movements (push/pull/bend/twist) to move heavy and bulky merchandise that may weigh up to 30 pounds (unassisted).
Possess accurate depth perception, visual focus, field of vision, color vision, and clarity of vision (far and near).
Occasional exposure to a dusty and noisy warehouse environment where surfaces may be uneven due to cracks from forklifts, and/or slippery when wet.
Drive a personal or work vehicle.
Pay and Benefits:
Annual salary of $70k to $90k depending on qualifications and experience.
Health, dental & vision insurance
401K with employer match
Employee Stock Ownership Program (ESOP)
Paid holidays and paid time off (PTO)
If you are interested in the position described above, please send a cover letter and resume to resume@stssteel.com for consideration. STS Steel, Inc. is an Affirmative Action-Equal Opportunity Employer.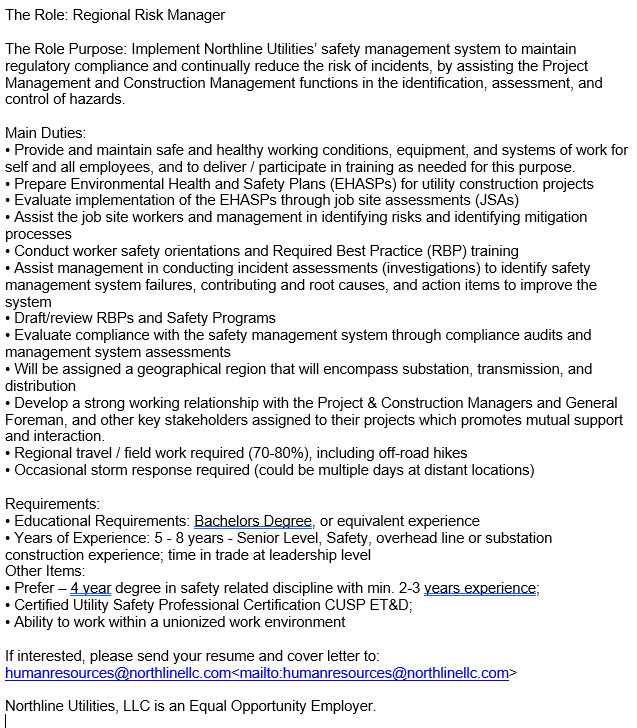 If interested, please send your resume and cover letter to: humanresources@northlinellc.com<mailto:humanresources@northlinellc.com